Aging the Ice Cream Way: Tips for a Happier, Healthier Fourth Quarter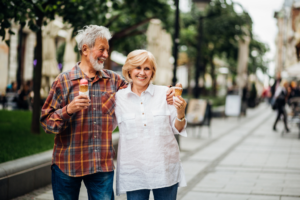 As healthcare professionals, care managers see the results of good (and not so good) "post-retirement planning" or what we call, the Fourth Quarter. Older adults who invested early in good habits and took the long-term care planning route, tend to have a more satisfying Fourth Quarter of life. Saving, investing, and making healthy choices are usually rewarded with more options later down the road.
Taking care of your health is like playing a game of chance. It's a combination of making good choices and hoping for good luck. However, the key to success is finding the right balance. By spending time and effort on creative and practical ideas, you can increase your odds of living a fulfilling and healthy life.
Part of our Smart Aging™ program is all about the pre-planning thought process. We can help you be proactive, which can mean all the difference between living well and…well, living.
Recently, I stumbled upon an article in Barron's that resonated with me so well on this planning topic. In it Joseph Coughlin, Director of the Massachusetts Institute of Technology's AgeLab, recommends focusing on including ice cream outings in your retirement plan.
His reasoning makes perfect sense. His point is that "details like going out for ice cream gets you thinking about the little things that make you smile." For him, it's an ice cream cone. For us, it could be anything that brings us joy. He wants to be assured that he can have one frequently not just because he has the money, but because he also has a way to get to the ice cream shop.
Following that directive, here are some of my takes on Fourth Quarter planning:
Visualize the freedom. With the work world structure behind you, what activities do you want to include in your daily life? Who are the people you want to be near, and what are your new goals? Where will you allocate your time and energy each day, month and year? What will generate a sense of purpose? We call this Meaningful Engagement, a key element of Smart Aging.
Where will you live? Many people dream of moving to Florida or selling everything and taking off on a perpetual road trip in a decked-out RV. I suggest thinking long and hard about dramatic changes. Consider first the locations that provide care and social support, whether it's near family or close friends. Make the changes while you've got the energy and interest in adapting to new environments that in the long run will enhance joy and independence.
It's smart to ask for professional help to build your plan. Just like working with a financial advisor or physician, the care manager provides the imagination and options to create a Fourth Quarter plan as strong as your financial plan. We call such coordinated planning Smart Aging.
The professional care manager is well-known for helping older adults manage health care challenges and crises. But did you know that the Smart Aging approach is all about extraordinary guidance and resources to avoid the crisis in the first place? The process doesn't have to be daunting. Elder Advisory Group can offer advice, guidance and resources to set you on a path to a longer, happier, healthier life.  
Call us at 713-624-4288 for a free consultation with an Aging Life Care™ Professional. And don't be surprised if we ask you about your favorite flavor of ice cream. Mine is mint chocolate chip.