Who Aging Life Care Professionals® Serve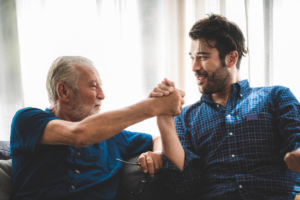 We serve older adults with challenges that can no longer be faced alone. We also assist family members who are seeking ways to ensure their loved ones can continue living life to the fullest.
Common areas of concern:

Facing a crisis related to aging?
Overwhelmed with the medical, legal, and financial issues facing an aging family member?
Need assistance finding the best living option for yourself or an aging family member?
Coping with a loved one with dementia?
Looking for assistance to maintain your aging family member's independence and dignity?
Facing challenges with activities of daily living, such as dressing, bathing, or taking medications?
Stressed by the aging process or the responsibilities of caregiving?
We also work with physicians, attorneys, and financial advisors to devise a Smart Aging™ care plan that meets our clients' goals.
We help manage the challenges of aging through:
An assessment of the older adult's needs.
Facilitating thoughtful and informed decision making.
Managing and coordinating resources.
Serving as an advocate during medical appointments.
Providing mediation guidance and advisory services.
Serving as a liaison among medical, legal, and financial professionals.
Giving direction and guidance through all issues facing aging adults and family members.
Protecting the aging adult's assets and lifestyle.
Bringing skilled knowledge and calm to crises.
Helping families plan and prepare for the long term.
How we work with community professionals
Elder Advisory Group partners with other professionals who support the needs of aging adults, including medical, legal, and financial experts. We assist these individuals in a variety of important ways. If you are an elder care professional and would like to speak to our team on partnering with families to enhance the well-being of older adults, please call us at 713-624-4288.
Service areas
EAG team members cover the entire Houston metro area, including Central Houston: Bellaire, Meyerland, River Oaks, West University Place, Westchase, Memorial City, Greater Houston Heights; West Houston: Katy, Westchase, Sugar Land, Missouri City; North Houston: Woodlands, Kingwood, Humble, Spring, Cypress, Tomball, and South Houston: Friendswood, Clear Lake, Pearland, Rosharon.