What Are Some Frequently Asked Questions About Care Management?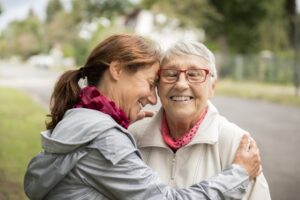 Why do I need a Geriatric Care Manager?
Professional Geriatric Care Managers (GCMs) are excellent resources when determining viable care options for yourself, a spouse or an aging parent. If you find yourself at odds with other family members over care decisions, are feeling overwhelmed or anxious about a long-distance family member, or are noticing changes, a GCM can help you with resources while providing a professional perspective. Additionally, a GCM may help identify future concerns that you may not have considered.
Back to top

How does the GCM evaluate my parent or other older relative?
We begin with an initial consultation with family members, either in person or telephonically. We gather information about the issues of concern prior to meeting with your older parent or loved one. Then, one of our team members meets with the elder in their home or facility to conduct an assessment and outline an appropriate care plan.
Back to top

What if I am not ready to commit to a full assessment?
After our initial consultation, you may not be ready to schedule an assessment. After discussing your current situation, we may provide you with other services and resource recommendations tailored to your specific needs.  This consultation will guide you through the "elder maze" and help you identify next steps and possible concerns that you may face in the future. Even if you're not ready to take the next step, the consultation will give you a terrific guideline for options in moving forward for this next stage in the "life care planning" process.
Back to top

My parents live in the Houston area, but I live too far away for frequent visits and I worry. Can Elder Advisory Group help?
We provide ongoing guidance and action plans for long-distance family members. We can help explain the range of options available and we can schedule regular home visits to evaluate and monitor care at home and within other communities. We work with you and your family to initiate appropriate services, monitor care and provide regular feedback to reassure you that your loved one is receiving quality care. We are your "boots on the ground" team so that you can rest assured your loved one in Houston is taken care of.
Back to top

I live in Houston, but my parents live far away. Can Elder Advisory Group help?
Yes! Our national network of professional resources help us coordinate services and providers for your loved one in another state or city. Additionally, our consultation with family members helps us assist you in selecting options to meet your loved one's needs and can also assist YOU in providing support along the way. Long-distance caregiving is tough on the family, and enlisting extra support is critical in this journey.
Back to top

My parents insist that they don't need help at home. How can Elder Advisory Group help me?
Our professional care team knows that many older adults may resist help when faced with a health crisis. Our Geriatric Care Management team consists of social workers, nurses, and other care managers who have specialized training and are effective in helping our clients overcome resistance to accepting help. We understand our clients needs and values and help them maintain the highest quality of life and level of independence possible. We'll outline the possible steps to help overcome the resistance during our initial consultation.
Back to top

I don't know if my parents should live at home anymore. But, how do I know if a local or long-distance move for them is the right option?
Elder Advisory Group will help guide you through the process and evaluate the pros and cons of a local or long distance move. Most older adults prefer to live in their own homes, but safety, economic reality, social isolation and availability of services are important factors to consider. Whether an elder relocates or not, Elder Advisory Group can assist in making a transition to a safer living environment.
Back to top

How does Elder Advisory Group handle an emergency?
All emergencies are handled promptly. The office is open Monday through Friday from 9 a.m. to 5 p.m, but we always have an on-call care manager for emergencies after hours and on weekends. Generally, all phone calls are returned within two hours.
Back to top

Are Geriatric Care Management services covered by Medicare or insurance?
Fees are not covered by Medicare or health insurance (some insurances may cover our fees), but fees may be covered by long term care insurance policies. You may discuss your specific plan options with your policy holder.
Back to top

How do I know if I can afford services through Elder Advisory Group?
Our free initial phone consultation will give you an idea of the possible options and associated costs. Elder Advisory Group can help you coordinate high-quality, cost-effective care options you might not know about otherwise.  Please contact us at 713-624-4288 for additional information or to request a free phone consultation.
Back to top