Geriatric Care Consultant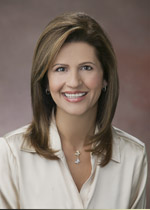 Mehrnaz Gill has an uncanny ability to connect with people. She has a Master of Science degree in Gerontology from Baylor University and has devoted her life both professionally and personally to causes that relate to the elderly and their well-being. Her interest in aging issues stems from her personal experience with her maternal grandmother who suffered from Alzheimer's Disease.
She worked at Baylor College of Medicine's Huffington Center on Aging (HCOA) and the Texas Consortium of Geriatric Education Centers for 23 years.
Volunteering and helping people in the Houston community have always been an important part of Mehrnaz' life. She has been involved with numerous deserving organizations including Amazing Place, Junior League of Houston, The Partnership for Baylor College of Medicine, The Salvation Army Women's Auxiliary, UNICEF, Barbara Bush Houston Foundation Ladies for Literacy Guild, and the Alzheimer's Association. Currently she serves on the Huffington Center on Aging Development Board as well as the Park Plaza Hospital Governing Board of Directors.
Her expertise in the field of Gerontology gives her the ability to speak on topics related to healthy aging. She has appeared on Great Day Houston Show with Deborah Duncan and has served as a presenter at local and national meetings including the American Society on Aging conference and the Governors Conference on Aging.