Can You Find Your "Stuff" Today?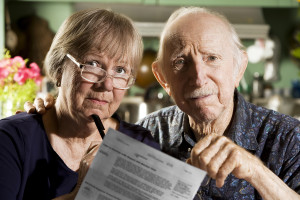 Too often we need some pieces of information when we are least able to think clearly—during an emergency, a doctor's appointment, at the lawyer's office, or at the hospital admitting desk, for example. To avoid confusion and a time-consuming search in situations like that, it's a good idea to get organized ahead of time when things are calm. But the job of finding and recording the information and gathering key documents can still seem overwhelming.
Here is a form you can use to guide you. Take your time, enter information carefully, and stop from time to time to ask yourself whether the information is current. Consider asking a close family member or trusted friend to help you. If you are married, you and your spouse should each fill out a form.
When you're done, store the information securely. Decide who should have a copy—a child? Your lawyer or accountant? A trusted friend?
Once you've compiled this information, things should go more smoothly the next time you or someone acting for you needs quick access to important records. And you'll have the peace of mind that comes from having all your personal records in order.
Click here to download a checklist you can fill out, or cut and paste the text from this article.
My Personal Records and Information
The information you gather in this form should be kept private and secure, shared only with trusted family members and agents.
Personal records inventory as of (date):
Personal Information:
Name:
Address:
Phone number(s):
Email address(es):
Driver's license number:
Religious affiliation/contacts:
Children (name, address, telephone numbers, email addresses):
Other close relatives (name, address, telephone numbers, email addresses):
Health Care Providers (name, telephone numbers, email):
Primary care physician:
Physician specialists:
Eye doctor:
Dentist:
Long-term care or assisted living facility:
Hospital:
Home care provider:
Pharmacist:
Other care providers:
Insurance Information (company, plan, policy number, phone number):
Health insurance:
Medicare supplement:
Long-term care insurance:
Car insurance:
Homeowners insurance:
Life insurance:
Legal and Financial (name and contact information):
Attorney:
Accountant:
Financial advisor:
Financial institutions:
Estate Planning Documents (location and date):
Will (including trust documents):
Living will (health care directive):
Appointment of health care representative (be sure to include the name, address, telephone number and email address of the person you have appointed):
Financial Records (describe where these are kept):
Tax returns, tax information:
Checkbook and savings passbook:
Digital information such as passwords and other key log in data:
Pension, IRA, 401(k) and other deferred compensation records:
Real estate documents (deeds, mortgages, notes):
Insurance policies and premium payment records:
Health care expense and reimbursement records:
Prepaid funeral plan, burial plot documents:
For additional information about organizing key documents and life care planning in Houston, please click here to visit my website.