Navigating Parent/Grandparent Conflicts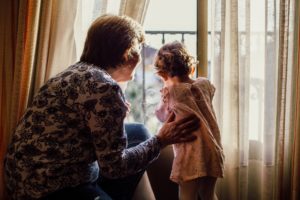 Shortly after her son and daughter-in-law began telecommuting from home during the pandemic, Nina moved in from across the country to help care for her three young grandchildren. "You're a lifesaver, Mom," the couple says as Nina shepherds the kids through their online classes and keeps them occupied while the parents have telemeetings. But there are tensions: Nina has always enjoyed spoiling her grandkids a bit, and she thinks some of their restrictions are kind of silly.
Social distancing meant that Greg and Tammy had to cancel their annual two-week summer visit with their adult children and grandkids. At least they can have video calls! And to keep in touch, they've been sending frequent little gifts to the kids. With school starting, the parents requested that video calls take place only during certain hours. They also asked that Greg and Tammy not send the kids so many plastic toys. The criticism stung a little, Greg and Tammy agreed.
Sunday, September 13 is Grandparents Day. This year, many grandparents have experienced quite a bit of disruption! If they live near their grandkids, frequent in-person visits may have given way to phone calls or socially distanced outdoor meetings. Summer vacations together were canceled. When new grandbabies are born, grandparents can't meet them in person or hold them. "It's heartbreaking," many grandparents agree.
Other families are experiencing more togetherness than ever as grandparents are sheltering in place with children and grandchildren. This can bring its own set of challenges—and of course, the age-old generational conflicts that are familiar to many families.
Researchers from the University of Michigan recently polled parents of children younger than 18, and found that nearly half had experienced parenting-style disagreements with grandparents. "For some families, what happens at Grandma's house stays at Grandma's house," the study authors noted. "But for others, clashes over parenting choices and enforcing parents' rules can cause major strife between a child's parents and grandparents."
Said researcher Sarah Clark, M.P.H., "Grandparents play a special role in the lives of many children and can be an important resource for parents through support, advice and babysitting. But they may have different ideas about the best way to raise the child and that can cause tension."
Clark and her team highlighted several common sources of conflict:
Discipline styles. Grandparents may fall afoul of the parents' preferences in either direction! Parents may see them as too lenient—the classic grandparent spoiling. On the other hand, grandparents may criticize the parents as being too lenient—the also-classic "Why in my day, kids weren't allowed to do that."
Social norms. Grandparents may interfere when it comes to the children's manners, dress and whether they need to clean up their plate at meals. They may disagree with parents when it comes to material possessions and screen time for the kids.
Safety. The Michigan team reports another classic grandparent saying: "That's not how we did things and you survived." But grandparents today raised their children before current research-based recommendations on such things as car seats, putting babies to bed on their back, allergies and spanking. And while grandparents may love posting photos of the grandkids on social media, they should respect the parents' wishes in that department as well.
These conversations can be so fraught and difficult! "Old business" between parents and grandparents can bubble to the surface. "When you hire an outside babysitter, it's straightforward to discuss parenting rules," notes Clark. "With family, there are different dynamics; you're worried about hurting Grandma's feelings."
Clark offers some suggestions for getting everyone on the same page. "Grandparents may have a hard time understanding why parenting and medical advice has changed so much since they raised children," she says. "Consider inviting grandparents to a pediatrician visit or sharing articles from parenting magazines or websites to help them feel more up to date and involved."
Today, there are a lot more grandparents than there used to be, and grandparents serve a vital role in the well-being of their grandkids. Research shows that children thrive in an intergenerational family. "Parents and grandparents may not always see eye to eye on parenting, but if conflicts aren't resolved, no one wins," says Clark. "Our findings indicate that grandparents should strive to understand and comply with parent requests to be more consistent with parenting choices—not only to support parents in the difficult job of raising children, but to avoid escalating the conflict to the point that they risk losing special time with the grandchildren."
Source: IlluminAge AgeWise reporting on a study from the University of Michigan