On the Road Again: Traveling with a Loved One who has Dementia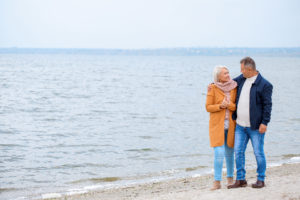 By: Janet Jackson-McCulloch 
With the holidays just around the corner, millions of Americans will hit the road to visit family and friends. It's an opportunity to meet new grandchildren, see extended family, or simply be a tourist. But if you're thinking about traveling with a loved one who has dementia, how do you begin to plan for a safe and comfortable trip?
The World Health Organization reports there are currently more than 55 million people living with dementia worldwide, with nearly 10 million new cases every year. Seeing a loved one experience dementia can be devastating—and learning to navigate the stresses of caregiving in addition to managing symptoms for your loved one can be overwhelming. However, this doesn't mean you have to give up your plans to visit family and friends. It can be an opportunity to give yourself a break as a caregiver and share the caregiving tasks with other family members like your adult children. If you visit a familiar destination like a family-favorite vacation spot, it might even be a comforting place for your loved one experiencing dementia.
My experience traveling with loved ones who have dementia has been both personal and professional. Both my mother and mother-in-law were avid, committed travelers who loved nothing more than getting in the car or hopping on a plane. It was part of their identity, and they didn't let age stand in the way.
T.R.I.P. Tips for Traveling with a Loved One with Dementia
At Elder Advisory Group, we focus on helping our clients live their fullest lives through successful aging, and spending quality time with family and friends is a key component of that. To help with planning, I'm sharing my T.R.I.P. tips for traveling with a loved one who has dementia:
T: Travel with Caution and Consideration
Based on my experience, I recommend you spend a significant amount of time planning. Take precautions and consider if your loved one is in a stage of dementia that will allow for a safe, comfortable trip. Speak with your loved one's doctor to clear travel and discuss any concerns. Physical limitations can be addressed with the right support team, and cognitive challenges must be addressed with special planning and realistic goals.
You'll also need to determine if you are prepared to handle the trip on your own or if you need to ask for caregiving support from an adult child or friend. Especially when flying, it can be helpful to have an extra caregiver on hand.
We put a family plan together for my casino-loving mom to travel to Las Vegas. She was a slot-machine fanatic who also liked blackjack, and her destination goals were modest. My mother-in-law had grander travel plans with her senior church group and traveled to China, England, and other faraway locales. In both cases, there were some special challenges, but thorough planning helped make it happen.
R: Ready and Set: Preparing for Takeoff
When choosing your mode of transportation, the Alzheimer's Association suggests evaluating needs, abilities, safety, and preferences to determine the most comfortable and least anxiety-inducing option. They also recommend learning the warning signs of anxiety and agitation and identifying strategies to reduce them. This can help you manage your loved one's reaction to unfamiliar settings during travel.
An immutable rule I like to remember is that uncertainty is a certainty. You should develop a trip plan and a backup plan—including travel insurance for hotels or flights. According to AAA, one-third of U.S. travelers say they are more likely to purchase travel insurance for trips planned between now and the end of 2022, specifically due to the pandemic. I recommend buying travel insurance not only as a pandemic safeguard but also as a safeguard against any unplanned situations that can arise from traveling with someone who has memory loss.
When finalizing your trip details, it's recommended to travel during the best time of day for the person with dementia. For example, only travel in the morning if your loved one experiences more agitation in the afternoon.
Lastly, discuss travel plans with your loved one—and prepare to repeat it—to set the stage for your upcoming trip.
I: In Case of Emergency
As a caregiver, you probably know the importance of keeping up-to-date emergency documents for your loved one and ensuring he or she has proper identification in case of emergency or wandering. This is especially important during travel. You can sign up for MedicAlert® with the Alzheimer's Association's Wandering Support®, a 24-hour nationwide emergency response service for individuals with dementia who wander or have a medical emergency.
The Alzheimer's Association provides a comprehensive checklist of travel documents to take on your trip. I recommend packing a small carryon or tote with a change of clothes for you and your loved one, in addition to travel and emergency documents, water, and snacks.
P: Prepare Yourself, Family, and Friends for What to Expect
I've read numerous articles about the importance of remaining patient when traveling with a person with dementia. A Los Angeles Times columnist who recently traveled with her husband who has Alzheimer's offered sage advice: "Learn to count to 10. Slowly. Backward and forward. Several times a day."
It can be just as important to prepare family or friends for any changes in your loved one that they can expect—whether you are staying in their home or staying in a hotel. The Alzheimer's Association recommends sharing any special needs with them and explaining your visit may need to be shortened or changed at any time. If possible, try to stick to routines and ensure your family or friends understand the need for downtime during your trip.
 There are many wonderful resources available to help you plan for traveling with someone with dementia, including the Alzheimer's Association, AARP and Family Caregiver Alliance. Elder Advisory Group can also help plan travel for seniors and take care of all the details along the way. However you choose to travel this holiday season, I wish you a safe and happy trip.