Planning for Our Senior Years—It's Never Too Soon!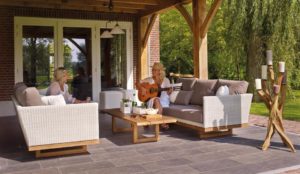 Maybe you're looking to retire in the next few years. Or maybe you're not sure you want to retire, but you want to be prepared for the unexpected, including age-related challenges. Studies show that today's younger people have done very little planning for their senior years—but giving it some thought now makes it more likely you'll have the quality of life you want in your later years.
One of the gifts of growing older is the wealth of life experience you have accumulated. By the time you face the challenges of later life, you have most likely raised children, held several jobs, and organized everything from school bake sales and political gatherings to garden club fundraisers and family reunions. You have dealt with medical and financial crises, times of emotional upheaval, and family stress. Though you may not have looked at it from this perspective, all of those life events have taught you the essential skills of planning and teamwork that you can now use in taking control of this stage of your life. You have what you need to consider the options open to you, come up with a realistic and workable plan, and live these later decades of your life in a manner that makes sense to you.
There are always unknowns as we face the future—more so as we grow older. It's impossible to predict when challenges to our health and well-being will appear. So any plan for our senior years has to be flexible. It has to take into account the potential of change or of increasing disability. However, especially if you begin early, you have a good chance to put in place the outline of a life that has meaning for you, that allows you to pursue your interests and reflects your priorities.
It All Begins with Planning
As you look to the future, what is most important to you? What are the conditions that are most essential to your quality of life? Does being close to family make it to the top of the list? Or putting aside resources that will allow you to travel? As you look at where you want to live, is it important to you to have a garden, a workshop, a good kitchen, or to be located near a variety of cultural events? It's time to make a plan! The questions that help you create your plan should include:
Where do I want to live?
Where do I want to be geographically?
With whom and near whom do I want to live?
What size and configuration of home makes the most sense—long-time family home, one-story condominium, mobile home, seasonal residence?
What activities or interests should my home allow—cooking, gardening, woodworking, exercise equipment, space for children and grandchildren to visit?
How would my proposed home function if I were to become ill or disabled?
Will a move almost surely eventually be necessary, or can my home environment be adapted to new life circumstances?
What do I want to do?
What long-time interests do I want to continue?
What have I always wanted to do, but didn't have time for?
Do I want to work for pay, full or part time?
What volunteer opportunities would I like to pursue?
What do I want to do for myself?
What do I want to do for my family?
What do I want to do for my community?
How do I envision the rest of my life?
Do I want to live in one place forever? What are the trade-offs in that strategy?
Do I want to make a plan for the present and assume I will move to a different home or care setting when I get older? What will trigger the decision to make that move?
What are my priorities to accomplish now, when I am at my most healthy and active?
When I slow down a bit, what activities will continue to be important?
Do I have a spouse, sibling, parent or other relative for whom I will probably need to provide care at some point? How does that impact my life plan?
Bring Others Into the Planning Process
As you can see, answering the questions above involves a lot of thought. It is best to begin thinking about many of these issues early. It's also helpful to do your initial thinking with the help of others. If you are married or in a committed relationship, obviously your partner needs to be part of your conversation. If you have children, it's good to let them know what you are thinking. Their assumptions about your retirement might be quite different from your own! It's probably best to have all family members working on the same assumptions.
Once you think you know what you want to do, then you need to gauge honestly and realistically the feasibility of your plan. You might talk to a financial advisor or eldercare attorney at this point. What are your financial resources and how do they impact your choices? Do you already have health considerations to take into account as you plan your future? Discuss them with your healthcare provider.
Along with these conversations, remember that there are a variety of resources available. Your local library will have books on the topic, from purely philosophical reflections on later life to how-to workbooks for retirees. Planning seminars and workshops are offered by your local aging services department and community colleges. Online retirement planners are available. Aging life care professionals (geriatric care managers) can help you learn about resources for seniors in your area or the area in which you wish to live. All these sources might nudge you to think in ways you would not have considered by yourself.
Once you've done all this background investigation, you can truly evaluate your initial strategy. If you now see that your plan is not going to work, figure out how it might be changed, then check through the feasibility again. Keep at it until you think you have a plan that works for you and is realistic. Congratulations! Abundant research shows those who plan for retirement and later life enjoy their life more and make better choices. You have just joined their number.