A Healthy Financial Life is Key to Aging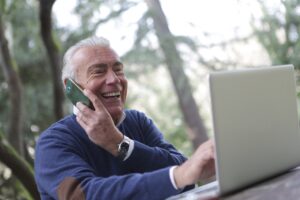 May is Aging Life Care/Older Americans Month. And if there's one thing I've learned over many years of experience as an Aging Life Care® Professional, our profession is always evolving. I recently attended the Aging Life Care Association Conference in Florida. It's an annual gathering of like-minded professionals and a wonderful opportunity to learn about the latest approaches to aging well.
One of the presentations was especially interesting to me. It covered the importance of helping older adults manage their financial life. Our care management team knows all too well the challenges family members face even broaching the topic of money with their older loved ones. It's rarely fun, but it is undeniably crucial.
Planning is the Key to Aging Well.
In fact, planning is the number one priority of our Smart Aging™ program. We believe that proactive planning of personal finances and other needs, such as living options and legal issues, leads to a much more productive and vibrant life. Conversely, without it, very unfortunate things, as older adults whose cognitive abilities decline become vulnerable to:
Scams
Suspension of vital services
Loss of savings
Foreclosure or eviction
Serious health issues
Can We Talk? About Money?
So, what's the best way to initiate the conversation? Leslie Kernisan, MD, aka Dr. K, offers some great advice, especially if you're already seeing signs that your loved one might be struggling to keep up with their finances. In a nutshell, take it slow, be prepared, and consider enlisting the advice and guidance of experienced professionals.
I would also suggest keeping in mind what relinquishing control of personal finances means. For most of us, managing our own money is a major source of pride and autonomy. In my professional experience, these five tips are worth considering:
Take time to define your goals. What do you hope to achieve for your family?
Work with your loved one to create a plan. It never pays to take charge without them or against their will.
Trust is everything. Be honest, frank, and empathetic in all discussions.
Financial plans are dynamic documents. They require regular monitoring and fine-tuning.
Proactive planning works wonders. For you and your loved one.
If you'd like to learn more about Smart Aging™  and how it can help older adults enjoy life to the fullest, please call us at 713-624-4288 for a free phone consultation.
---
About Janet Jackson-McCulloch
Janet Jackson-McCulloch, Founder and President of Elder Advisory Group, established her firm to help older adults and their families master the art of aging well—protecting physical health, staying mentally sharp, making social connections, finding trustworthy long-term care, and more. As an Aging Life Care® Professional, she and her team of experts are making Smart Aging™ the new reality.