Can an 89-Year-Old Woman Take Charge of Her Own Life? You Bet.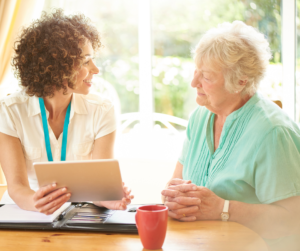 All too often, when clients begin working with us, they tell us they wish they'd contacted us sooner. I wish they did too!
Our services are so flexible, ranging from something as simple as periodically checking in on a client to acting as a personal advocate by closely monitoring and participating in their daily activities with doctors, professionals, hospitals, home health personnel, friends, family members, and more.
Just recently, Ginny, one of our geriatric care managers, sent me a note about a long-term client's experience. Her story below seemed to me a great example of how our personalized Smart Aging® services can gradually progress over time to improve the lives of older adults. We received permission from the family to share with you all, but we changed their names to respect privacy.
Getting Ahead of the Game of Life
Elizabeth, an independent 89-year-old, contacted us six years ago when she noticed she wasn't keeping up with things as she always had. She had no family nearby to call on—her loving son lived across the country; a caring niece lived in North Texas. Elizabeth was used to being in charge, and she intended to continue. However, she wanted help that didn't overly involve her family. She needed local guidance.
Rather than waiting for a crisis before seeking help, as she'd seen several friends do, Elizabeth decided to start a relationship with Elder Advisory Group. After meeting with Elizabeth, Ginny agreed to begin taking her to doctors' appointments and sitting in on them to help take notes. She would also check in with Elizabeth periodically by phone.
All went well until Elizabeth's short-term memory began to decline. At first, it was enough for Ginny to simply take over scheduling doctor and dentist appointments for her. But as time went on, she needed to intervene further when Elizabeth's doctors noticed inconsistencies in her prescription refills, a worrisome sign that she wasn't taking her medications properly. Ginny began filling pillboxes for Elizabeth and monitoring her weight and health.
A Natural Progression of Aging Care Management
When Elizabeth's worsening knee trouble caused her to fall, Ginny became even more involved. She helped Elizabeth get emergency care for a fractured wrist and coordinated short-term, 24/7 home health services and physical therapy.
Ginny was there for every step of Elizabeth's health journey. Ginny coordinated multiple caregivers after Elizabeth's surgery for a malignant melanoma and later numerous strokes and heart issues. She kept Elizabeth's son and niece well informed with every change in their loved one's health status, and she also helped Elizabeth cope with the death of a dear friend and her own beloved pet Millie—within a few short weeks of each other.
It's not possible to describe all the ways that Ginny was able and privileged to help Elizabeth through a full range of life experiences. Ultimately, Ginny coordinated hospice care and helped to document Elizabeth's end-of-life wishes.
In the end, Elizabeth died peacefully with loving family and professionals by her side, with all her wishes honored.
A Family Member's Thank-you Says it All
A note to me from Elizabeth's niece Rebecca serves as the best testament to the value of Elizabeth's and Ginny's longstanding relationship:
"I want to thank you and EAG for your excellent care of Elizabeth over the last few years. Everyone who worked with her was great. Ginny was outstanding! I don't know how she kept track of everything along with her other clients. Ginny is a true jewel, and we were honored to have her care for Elizabeth."
Understanding the value of providing essential and very personalized care to older adults and their loving family members is what inspired our Smart Aging program. Please let us know if you need assistance with any dimension of life care management for yourself or someone you love—don't put it off. Call us at 713-624-4288 or visit our website to learn more.