Does Technology Widen Generational Gaps?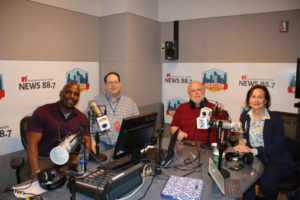 Janet, founder of Elder Advisory Group, was asked to be part of the discussion involving technology and our older generations. Below is a copy and link to the article and segment from Houston Matters on NPR.
Advancements in technology may come easily for digital natives like millennials and Generation Z, but are people in older generations being left behind?
ABNER FLETCHER / HOUSTON MATTERS / HPM DIGITAL TEAM | POSTED ON JULY 20, 2018, 2:06 PM 
Technology develops at a rapid pace these days and it feels like just about everything in the world has some kind of digital component to it. For digital natives like millennials and Generation Z, these advancements might feel somewhat routine… But what about those older generations who didn't grow up with mobile phones, personal computers and the Internet?
Is constantly evolving technology making the learning curve too steep for some people?
To dig through multiple aspects of this topic, Houston Matters host Craig Cohen talked Friday with Janet Jackson-McCulloch, founder of Elder Advisory Group; Javon Brown, Campus Instructional Technologist at Westbury High School and Dwight Silverman, Technology Editor for the Houston Chronicle.
For Jackson-McCulloch, there is "a real generation gap when it comes to being comfortable adopting new technology."
Although there are people in their 70s or 80 s who use their computers every day and some enjoy using services such as Netflix, Jackson-McCulloch thinks that the learning process for human beings is an important factor because "we learn things early in life" and therefore "it can be really challenging for older adults to try and tackle technology."
Talking about the other side of the coin, meaning today's young people, Brown underscored that "they're far more advanced than, you know, than students ten to twenty years ago and beyond, and they're far more comfortable with using that technology."
"So, as we integrate that into the classroom, they tend to pick up on it and they tend to embrace and want to learn more," Brown added.
For Silverman, the generation gap generated by the rapid pace of changing technology may exist but, at the same time, it's not set in stone that every young person is technology savvy and all old people struggle to use such technology.
"There's kind of the stereotype," Silverman commented I think, that older people aren't into technology, but many of them find things in technology that help them quite a bit and I think there's the stereotype that, if you are a millennial or younger, that you've grown up with technology and you are one hundred percent comfortable with it and I don't think that that's true necessarily either."
You can listen to the full segment by clicking on the link in this post.