Help! I Can't Find a Caregiver for My Loved One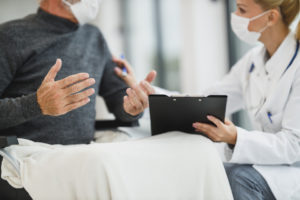 3 Important Ways We Can Ease Your Mind
By: Janet Jackson-McCulloch 
It takes a special person to choose a career as a caregiver. If you've ever tried to care for someone in need, even someone you love, for any length of time, you know how challenging the job can be. The hours are long, the work is demanding, both physically and mentally, and the compensation is relatively uninspiring.
Not surprisingly, caregiver staffing shortages have always been a problem
Unfortunately, the continuing pandemic has only made things worse, as many exhausted caregivers have quit the field altogether.
We're well aware of this issue at Elder Advisory Group. Our care managers routinely work with clients who require qualified care to live safely at home. In fact, struggling to find the best solution for in home care is often the reason family members come to us in the first place.
If you need help now and you've had no luck, you're not alone
As this woman's eye-opening story confirms, finding home care for older adults is harder than ever. As a result, spouses and other family members often try to take on the caregiving role for their loved one themselves, ultimately realizing they simply can't do it alone.
We have no magic wands to wave, but we do have considerable knowledge and experience to share. If you're looking for private care now or think you might need it in the future, here are a few ways Elder Advisory Group can help you find the right care for your personal situation:
1. We know and vet caregiver agencies.
When you don't know the agencies available or how to properly select and vet caregiver services, it's easy to become overwhelmed and anxious. You want the best for your loved one, but who do you trust? Elder Advisory Group provides expert guidance to give our clients peace of mind as we work together to find the right caregiving team.
2. We match your needs to your caregiver.
Every person's situation is unique. We believe it's vital to evaluate and understand our client's needs and preferences before the search begins. In light of the current caregiver shortage, this is especially important to avoid wasted efforts and minimize potential conflicts.
3. We keep in touch.
There are so many unfamiliar issues you're bound to encounter as you begin working with a caregiver. Our Aging Life Care Managers® can not only assist with evaluation and referrals, but also monitor a complete plan of care. And through affordable programs like Smart Aging™, we help older adults and families prepare for what's next, enjoy life more, and avoid making decisions in crisis mode.
Choosing the right home care agency is something most people hope they never have to do and may not know where to start. We do it every day, as we have for decades.
If we can be of service, please call our office at 713-624-4288 for a free phone consultation.
About Janet Jackson-McCulloch
Janet Jackson-McCulloch, Founder and President of Elder Advisory Group, established her firm to help older adults and their families master the art of aging well—protecting physical health, staying mentally sharp, making social connections, finding trustworthy long-term care, and more. As an Aging Life Care® Professional, she and her team of experts are making Smart Aging™ the new reality.