How Aging Life Care Managers Help Older Adults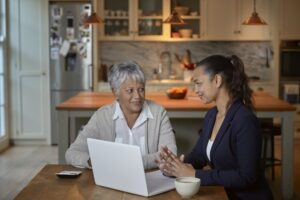 Shirley is a 68-year-old woman who has lived an independent and active life. She raised two children on her own after her husband passed away when they were young, and she has always taken pride in her ability to manage her own affairs. However, as Shirley has aged, she has noticed that some of the everyday tasks and responsibilities have become more challenging. She has also begun to worry about what would happen if she were to experience a medical emergency or other unexpected event.
Shirley has always been proactive about her health and has worked hard to stay active and engaged in her community. She enjoys spending time with her grandchildren, taking walks in the park, and attending social events. However, she is not as strong or steady on her feet as she used to be, and she has had some minor health issues that have required medical attention.
Professional Care Guidance
Despite her best efforts, Shirley has found it increasingly challenging to manage her affairs on her own. She has had trouble keeping track of her medications and appointments, and she worries about how she would manage if she were to fall or become ill. She has also been considering downsizing her home, but she is not sure where to begin or how to navigate the complex real estate market. That's when Shirley's daughter recommended they look into hiring an Aging Life Care Manager®.
Aging Life Care Managers are professionals who provide comprehensive, personalized care management services to older adults and their families. These experts specialize in coordinating and managing the complex issues that come with aging, such as healthcare, legal matters, financial planning, and social support. Aging Life Care Managers serve as advocates, counselors, and guides, helping older adults and their families navigate the challenges of aging. These professionals are also sometimes called Geriatric Care Managers. But only ALC Managers meet the rigorous educational and experience standards of the professional association (ALCA).
Personalized Care Management Services
One of the primary ways that Aging Life Care Managers help older adults, and their family members is by developing a plan for aging in place that addresses the senior's specific needs and preferences. They assess the older adult's physical, emotional, and social well-being, as well as their support system and living environment. From there, they create a personalized plan that outlines recommendations for services and support that can enhance the older adult's quality of life. The client is free to act based on any or all of the recommendations. Aging Life Care Managers do not receive any promotional benefits from any of the organizations or services they recommend.
In addition to creating a care plan, Aging Life Care Managers also help older adults and their families access resources and services that can improve their overall health and well-being. They may provide referrals to medical professionals, social workers, financial planners, and other specialists who can help address specific needs. They also help older adults, and their families navigate the often-complex healthcare system, ensuring that they receive the right care at the right time, and research and tour potential senior living residences if that is called for.
Some Aging Life Care Managers call themselves the "boots on the ground" for the families they serve. They can be on hand quickly when needed, a particular benefit when families live far away.
With the support and guidance of an Aging Life Care Manager, Shirley is embracing this new phase of her life with confidence. If you or a loved one would benefit from the services of an Aging Life Care Manager, the Aging Life Care Association website can help you find one near you.