Navigating May's Emotional Mine Fields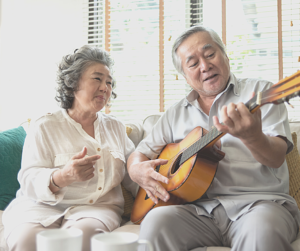 We all know the saying "April showers bring May flowers," but what does May bring? For many, May is a month of family events, milestones, and memories, from honoring Mother's Day to celebrating graduations. Yet these same events can produce hyper-charged emotions for everyone. Older adults can become lost or confused in the hoopla of the celebrations. Families may struggle balancing their parent's care with managing their own mixed feelings about changes ahead and the many tasks needed to make the celebrations joyful.
The complexity of our family systems, along with increased longevity of older adults, has created a new emotional matrix to navigate. How does one deal with the mixed bag of fear, loss, joy, anxiety, anger, guilt, pride, and love? The answer: very carefully.
As Aging Life Care® Managers (also known as geriatric care managers), we specialize in helping families navigate challenging emotions. We are trained to anticipate and coach both older adults and the family in a myriad of situations. Often a compromised medical situation is the initial driver for intensified care, however, we find it's equally important to implement strategies to support emotional well-being.
Tips from the Professional Care Manager Toolbox
When planning family events, think broadly about what's manageable financially, logistically and emotionally.
Older adults often do better in smaller settings led by people that know how to make them feel included, without being overwhelmed.
Breakdown and calendar a "buddy" system to connect the older adult.
Make assignments for everyone to assist with helpful tasks that are appropriate for the level of ability and interest. Don't leave anyone out, especially our seniors, who value and want to continue to contribute.

Examples: Children can make the greeting cards that others can sign or that accompanies the check to the honoree, or they assist in preparing a special dessert. The older adult might write or dictate a story or poem or pass along a book or possession to share.

If geography or limitations require leaving the older adult at home, make an effort to connect via video calls, sending pictures, or frequent phone calls to balance the absence.
Celebrating Our Elders
On the flip side, let's remember to encourage the celebration of our aging parents and loved ones. May gives us the perfect reminder as its both Older Americans Month and National Aging Life Care Month. Now in its 60th year, Older Americans Month honors the accomplishments of older Americans and the families who support them. We all benefit when older adults remain engaged, independent, and included. At Elder Advisory Group, it's always our goal to help clients maintain a high-quality lifestyle through advocacy, tools, and resources.
Resources for Aging Well
There are many things to consider when creating a caregiving plan that works for you and your family, from determining where your loved one will live to finding a daily routine that works well. Geriatric care managers (also known as Aging Life Care® Managers) help navigate these challenges and emotions to relieve the stress of caregiving.
Because May is also National Aging Life Care Month, it's a great opportunity to learn more about Elder Advisory Group and how we help older adults lead fulfilling and meaningful lives as they age. If you or your family is interested in learning about aging life care management, call our team for a free consultation at 713-624-4288.