Questions to Ask When Choosing a New Doctor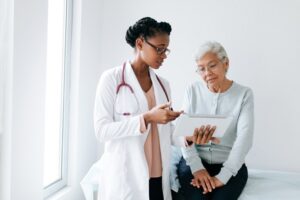 Older adults may have a long-term primary care physician with whom they have developed a trusting relationship. But as we get older, there are many reasons why we may need to find a new doctor. After all, doctors and other care providers do retire. Patients may move or change insurance plans. Doctors can choose not to accept certain insurance plans any longer. Or, perhaps your healthcare needs are changing and you've become dissatisfied with their level of care or your conditions require a specialist. No matter the reason, it's very likely that sometime in your life you will find yourself shopping for a new healthcare provider for yourself or a loved one.
Perhaps more important than finding a doctor who can meet your healthcare needs is finding one you feel comfortable with. It may take some time and effort, but it's worth the search to find someone you trust and like.
Here are some questions you may want to ask when looking for a new doctor:
What are the doctor's credentials and experience?
What is the doctor's approach to treatment and prevention?
Is the doctor comfortable answering questions and providing information about my health and treatment options?
Does the doctor have a good bedside manner and seem approachable and respectful?
Is the doctor accepting new patients, and if so, how long will it take to schedule an appointment?
Is the doctor's office location convenient for me, and are the office hours convenient for my schedule?
Does the doctor use electronic health records, and if so, how does the office handle sharing information with other providers and coordinating care?
Does the doctor accept my insurance, or do I need to pay out of pocket for services?
How does the doctor handle emergencies, and what should I do if I have a medical concern outside of office hours?
Does the doctor have any specific areas of expertise, and do they align with my healthcare needs?

Pro tip: Look for experience with geriatric or elder needs, older adults, long term care, managing multiple medications.

Does the doctor do telehealth appointments, or in-person care only?
Request your health records from your current provider as soon as you know you are ready to make a change. That way, they will be ready for your next provider and you can hit the ground running with continuous care. If you are worried that you'll need to explain your reasons for leaving to your current provider, Consumer Reports magazine urges you not to be concerned. The relationship between a doctor and patient can be ended by either party, and you aren't obligated to explain anything.
Have more questions? Elder Advisory Group specializes in supporting and advocating for older adults. Please let us know how we can explore care management together by calling 713-624-4288.