A Care Manager's Guide to Productive Facility Visits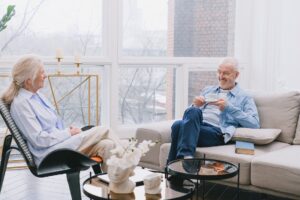 If your loved one lives in a senior care facility, you're probably aware of how important regular visits are to their well-being. Research shows that regular and consistent visits lead to better overall health for older adults. Visits have lots of benefits…monitoring health and well-being, maintaining memory and social connections, and letting them know you care.
Is working a bi-weekly or monthly visit on your list of New Year's Resolutions? With busy family and work obligations, that can be difficult to manage. Visitation was impossible during the pandemic, and you may be unsure about the current rules. In any case, increased support and oversight is vital and important to those living in assisted living and memory care communities.
The Aging Life Care™ Managers (ALCMs) at Elder Advisory Group created a list of community-friendly reminders for visiting and caring for a loved one. Ideally, the community does the caregiving, allowing the "family-to-be-family". Here are some of the challenges we encounter:
Many facilities are currently experiencing staffing shortages due to overall labor shortages, staff illnesses, or their children being ill. Pack your patience and understand there may be higher than normal wait times on phones or check-in lines.
Facilities may be relying on agency staffing to fill the gaps in staffing. The "fill-in" personnel may not know your loved one's specific needs or preferences. They may only be there for a few shifts or vacation coverage and not as available to answer call lights. Your family member may be upset or confused by all the new faces and any potentially delayed response times. Please encourage them to be patient and someone will help them as quickly as possible.
Bring with you some of your loved one's favorites things when you visit. This is a good time to replenish any snacks, gift a warm blanket, or bring a picture frame with your family holiday picture. A visit by a care manager can also help bridge the gap in facility support by taking care of your loved one's supply needs that come up unexpectedly.
Many facilities are experiencing changes in leadership (Executive Directors, Wellness Directors/Nurses, Activity Directors.) Be aware, many companies do not announce management changes, so previous contacts may not be responding. Forwarded emails and unanswered voicemails may be going to the corporate office. Continue to follow up to get your questions answered by other local staff members at the community. If you are not getting a response, request to schedule a meeting with the appropriate department.
If you see that your loved one's care is lacking, discuss options with an Aging Life Care™ Manager to improve the situation, which may include: 1) Scheduling a meeting with the facility staff to discuss if a change in level of care is needed. 2) Increase visit frequency/ add additional family visits. Your loved one will appreciate the increased visits! 3) Discuss adding private caregiver hours to temporarily increase 1:1 attention and address any immediate needs.
Check with the facility regarding appreciation gifts– Please note and be respectful of company gift policies as they are in place to protect residents from financial obligation or financial exploitation. Many facilities do not allow staff members to accept gifts or have restrictions on the amount & type of gifts which can be accepted. For example, some facilities may only allow $5-10 gift cards. Others may not allow any individual gifts, only group gifts (like breakfast tacos/lunch sandwich trays, doughnut or cookie trays, boxes of chocolate for the entire shift or department to share.)
Understanding the facility's rules and regulations will help your loved one's overall experience.
Our team at EAG offers additional support to older adults living in all different types of care facilities. If you would like to explore care management options, please contact us at 713-624-4288.