Storms, Floods & Other Disasters: Don't Worry, Be Ready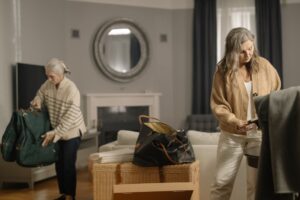 If you live in Houston, you've probably heard that hurricane season is upon us. And you know what that means, especially if you have an older family member's welfare to consider. It's time to prepare. Whether your loved one lives alone, in a care facility, or in your own home, there's a lot to be done to keep your family as safe as possible.
Each year at this time, as part of our Smart Aging™ program, we send our members a short Emergency Preparedness Questionnaire to help us determine who might need additional support in the case of a hurricane or other natural disaster. Our care managers and staff can provide "boots on the ground" to facilitate the preparations.  It's a relief to all of us to know we're ready for the worst with supplies on hand and a clear plan of action in mind.
Hurricanes are scary business
Waiting until disaster strikes (and routes are blocked, store shelves are bare, and the power is out) is a terrible idea. The National Institute on Aging offers 6 tips for helping older adults prepare. Our care management team also suggests these ideas for older adults with Alzheimer's or other memory impairments:
Extras to include in a ready-to-go-bag:
Physician's contact information
Copies of current legal documents (power of attorney, HIPAA)
Recent photos of your loved one
Spare eyeglasses and hearing-aid batteries
Chargers to your devices (cell phone, CPA, wheelchair, etc.)
Medication list
Hand sanitizer
Flashlight
First aid kit
Incontinence undergarments, wipes, and lotions
For further hurricane preparedness checklist, please check out the American Red Cross website for more details.
Plan for wandering
Place labels on all clothing
Make sure your loved one wears an ID
Consider signing up for MedicAlert membership with 24/7 Wandering Support
Our Smart Aging™ membership includes comprehensive advanced planning for emergencies and long-term living success. To learn more, please call 713.624.4288 for a free consultation.
---
About Janet Jackson-McCulloch
Janet Jackson-McCulloch, Founder and President of Elder Advisory Group, established her firm to help older adults and their families master the art of aging well—protecting physical health, staying mentally sharp, making social connections, finding trustworthy long-term care, and more. As an Aging Life Care® Professional, she and her team of experts are making Smart Aging™ the new reality.