Watch Your Step: 4 Ways To Prevent Falls and How To Recover Better if You Have One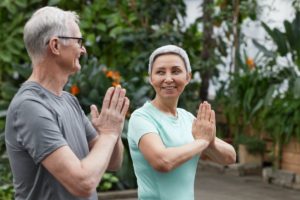 By: Janet Jackson-McCulloch 
Until you or a loved one experience a fall, you probably have no idea how common falls are or how serious the consequences of them can be. The stats are alarming, and they tell a cautionary tale.
According to the Centers for Disease Control and Prevention, millions of Americans aged 65 and older fall each year. To put this number in better perspective, that means one in four in this age group fall annually. Even more worrisome, having that first fall doubles the chances of falling again.
Falls Cause Long-Term Injuries and Death
What makes matters worse is what happens as a result of falling. Broken ribs, wrists, and hips. Head injuries, including traumatic brain injuries. Loss of mobility. Long-term weakness. Increased fear of falling in the future. Lack of confidence. Depression. And more.
These are the reasons our Smart Aging™ program focuses so much energy on providing qualified risk assessments and proactive tools and strategies to keep our members safely aging well.
Let's Talk About Fall Prevention
Here are some important considerations that can help you avoid becoming the next fall statistic.
Review potential risks – What health conditions do you have that could increase your risk of falling? Do you take any medications that cause sleepiness or make you dizzy? Would you benefit from a Vitamin D supplement? Your doctor can help you answer these important questions and find solutions.
Build strength and balance – Are you strong and flexible? How's your balance? Simple exercises can help a lot in preventing falls. Tai Chi, for example, is a system of gentle exercises and stretches that can greatly improve your strength and balance.
See your eye doctor – Are you seeing clearly in all environments? It's important to have your vision tested once a year and update your glasses as needed. If your glasses have bifocal or progressive lenses, make sure you can judge distances properly with them, especially when you're walking outside.
Make your home safer – Is your house full of trip hazards? Is your bathroom an accident waiting to happen? Simple changes keep you safer. Clear away things you could trip over. Have grab bars installed. Add a non-slip mat and/or a bench inside your tub or shower. Be sure you have plenty of bright light to help you find your way.
The Moment of Truth, if a Fall Does Happen
Clearly, after-care is critical. How your doctor responds can have a major effect on your recovery. Unfortunately, not all doctors are well informed or eager to take the time necessary to provide the best level of care in these circumstances. For patients or family members, it pays to know what to expect, or to have someone qualified serve as your healthcare advocate.
Leslie Kernisan, MD, author of The Geriatrics for Better Caregiving Blog, shares some valuable insights in her post, 8 Things to Have Your Doctor Check After an Aging Person Falls, that are well worth a look. You can even print her cheat sheet to take with you to your healthcare provider's office.
Think Positive: Falls are Not Inevitable
As with everything that has to do with successful aging, the more you know, the better off you are. We see clients enjoy long, healthy, independent lives every day. And we can confidently say from personal and professional experience over many years that proactive planning and action make all the difference.